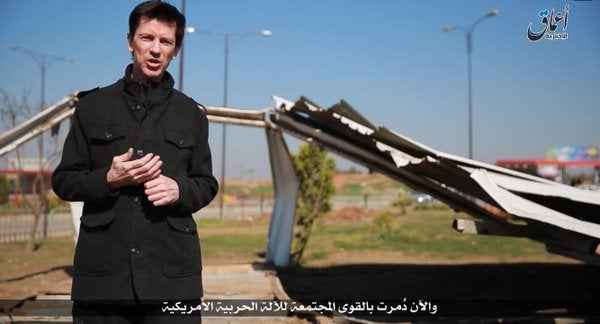 A BRITISH journalist kidnapped by Daesh in Syria six years ago is still alive, the government has claimed.
Captive British photojournalist John Cantlie in what appeared to be central Mosul, Iraq [AP] Later he was filmed dressed in civilian clothing and acting as though he was a reporter covering the region.
Security Minister Ben Wallace told journalists that he believed the photographer may have survived, according to a spokesman for the Home Office - which is in charge of law and order.
Cantlie was also reported dead previous year by media citing Iraq's Al-Sura News Agency, which said he was killed in the Mosul operation. There was no immediate comment from the Cantlie family.
He stated that the United Kingdom does not pay ransom.
Vehicle bomb explodes in Somalia, killing at least 10 people
Eleven people were killed and ten wounded on Monday in a auto bombing against a shopping mall in the Somali capital , Mogadishu . Formosa, a Maltese national, was the manager at Bossasso for P&O Ports, a subsidiary of the Dubai-based DP World.
Kelly Announces New Tour in Midst of 'Surviving' Backlash
Kelly is a multi-platinum R & B star who has not only notched multiple hits for himself, but also many high-profile performers. In case you missed it, alleged sexual abuser R.
Worldwide oil prices dip as USA crude inventories rise
Higher American output is threatening to offset cuts by the Organization of Petroleum Exporting Countries and its allies. OPEC supply fell last month by the largest amount in two years, a Reuters survey last week found.
We are aware of the current news circulating that John Cantlie is alive, whilst this is not substantiated at present, we continue to hope and pray that this turns out to be true.
He did say officials believe Cantlie is still being held by so-called Islamic State operatives. Cantlie was kidnapped together with one of the executed journalists, James Foley, in November 2012 in Syria.
Cantlie, a freelance photojournalist, was captured alongside USA colleague James Foley in November 2012 and handed over to ISIS.
News reports in July 2017, published shortly after Mosul had been retaken by Iraqi forces, suggested Mr Cantlie had been killed. In these he appeared on camera wearing orange jumpsuits.
Cantlie's relatives had made a series of emotional appeals for his release.